September 21-22, 2022 | Prague, Czech Republic | Kaiserštejnský palác
Thank you for the participation!
We are honored to experience our first Graduation Ceremony in Vienna with our talented Graduates. We hope that you enjoyed our ceremony as much as we did.
You have the opportunity to re-live the magical moments via videos, photos and interviews that we made with a few graduates.
We cannot wait to celebrate another Graduation Ceremony in the future.
Event date: September 21-22, 2023
Location: Hotel Bristol, Kärntner Ring 1, Vienna 1015, Austria. See the map here.
You can watch the recording of the Graduation Ceremony here! Play the videoby clicking the button below.
Get your photos from the Graduation Ceremony!
Download Photos from our graduation ceremony!
Each graduate receives a photo from handing over the diploma. Download your photos below, based on the time of your ceremony.
You have also an opportunity to get additional photos after paying the fee €9.90 below.
Get album of extra 150 photos with your family and moments before and after the Ceremony itself taken by the photographer.
The photos include everything from the check-in process until the end of the whole venue and will be accessed for €9.90
Get Yourself
Graduation Merchandise
Free Shipping! Limited edition of our Merchandise just for Graduates of 2022.
Visit our e-shop and get something to remember your studies.

This is a limited edition. It won't be available for too long.
Get a Graduation Stole to commemorate your studies!
You can get our Graduation Stole in Red color (MBA and Master Degrees) or Blue color (Doctoral Studies).
Price: €29.00
Buy it in the form below and we will contact you with the shipping information, depending on your location.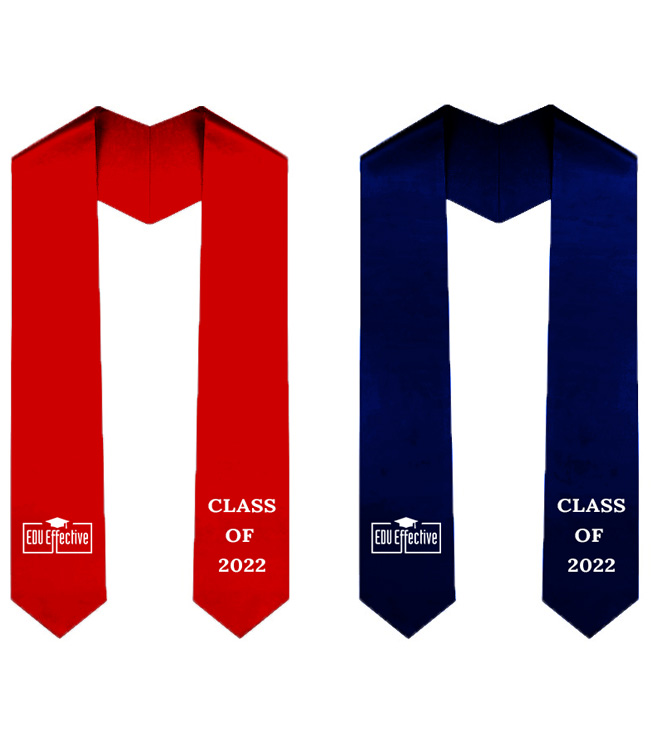 All Graduates will receive photos of them getting their diplomas. You can buy additional photos with your family and the rest of the moments below. After it, you will be given access to other photos in the album.

Carefully select the currency of the payment (CZK or EUR) above the price of the items.
Do you have any problems with filling out the application? Please contact us and we will be happy to help you! If you can't see the payment form, please try to refresh the page.
We invite our students and their family to document their journey to graduation by using the hashtag #EDUEFFECTIVE22 on Facebook, Instagram and Twitter. Photos and videos will be also available after the Graduation Ceremony.