September 8, 2022 | Vienna, Austria | Hotel Imperial 
Enjoy your Graduation Ceremony 2022!
This is your special occassion and you deserve to celebrate the graduation of your MBA, Masters or Doctoral programs! We would be delighted to meet you there.
The admission to the ceremony is with invitation only as the space is limited. You can register on this page in the form below.
Event date: September 8, 2022
Location: Hotel Imperial, Kärntner Ring 16, Vienna 1015, Austria. See the map here.
Time: There will be two Graduation Ceremonies starting either at 9:00 and the other one starting at 13:00. In the form below, please choose one of these times.
Detailed Schedule of the Ceremony will be announced soon
Graduation Caps and Gowns are rented

We will take group photos, individual photos and videos

Basic Catering will be provided

Great opportunity for networking

Accommodation and Visas are reponsibility of each student

Dress code: Business Casual
Start your day with the breakfast with Dr. Pavel Makovsky and talk with him in person!
It's your unique opportunity to meet the the Founder plus the collected amount of paid breakfasts will be donated to the Scholarship fund in your name. Type: Breakfast with Dr. Pavel Makovsky
Time: 7:30 AM - 8:30 AM
Where: Salon Maria Theresia in Hotel Imperial
Limit: 8 people

All money will be donated on your behalf

Price: €59.00
Dresscode: Business Casual
Get Yourself
Graduation Merchandise
Free Shipping! Limited edition of our Merchandise just for Graduates of 2022.
Visit our e-shop and get something to remember your studies.

Free Shipping will be active from 13.8.2022 until 22.8.2022!

This is limited edition. It won't be available for too long.
Get a Graduation Stole to commemorate your studies!
You can get our Graduation Stole in Red color (MBA and Master Degrees) or Blue color (Doctoral Studies).
Price: €29.00
Buy it in the form below and collect it personally on the day of the Ceremony in Vienna. If you want to ship it, contact us after the Ceremony for more information.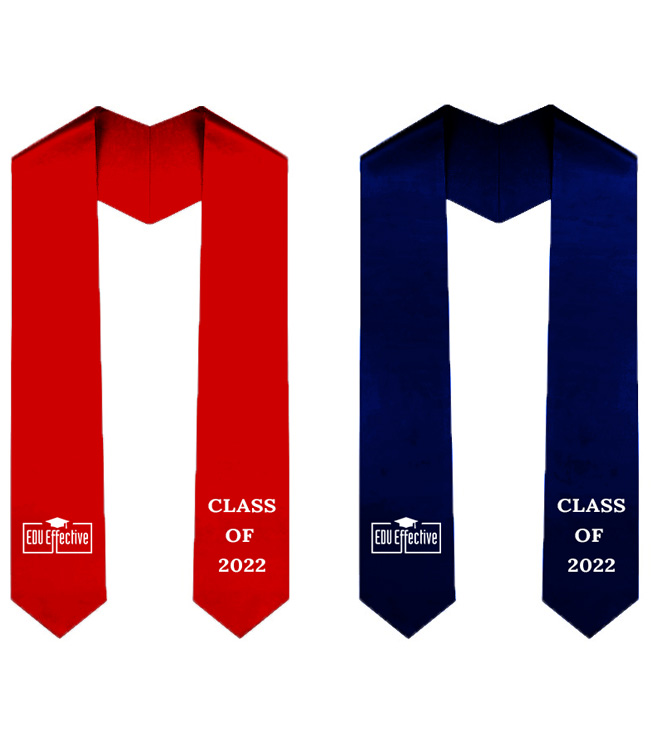 If you are not registered, register by paying Graduation Registration Fee and selecting a Graduation Ceremony time.

You can choose a Graduation without Diploma, if you have already received one from us.

You can get up to 5 guests accompanying you.

Carefully select the currency of the payment (CZK or EUR) above the price of the items.
Do you have any problems with filling out the application? Please contact us and we will be happy to help you! If you can't see the payment form, please try to refresh the page.
We invite our students and their family to document their journey to graduation by using the hashtag #EDUEFFECTIVE22 on Facebook, Instagram and Twitter. Photos and videos will be also available after the Graduation Ceremony.